First of all, I love dbdiagram. IMHO, It is a great tool with a lot of potentials. However Due to some major issues, it is not quite as usable as it should be.
Issue
List of saved diagram display inconsistent values. This happens all the time for me
Sometime it displays duplicated diagram names
Sometime it displays empty list when there are actually saved diagram
Sometime it displays "untitled diagram"
If I delete the duplicated values on the list, the original diagram will also be deleted.
Check the screenshot below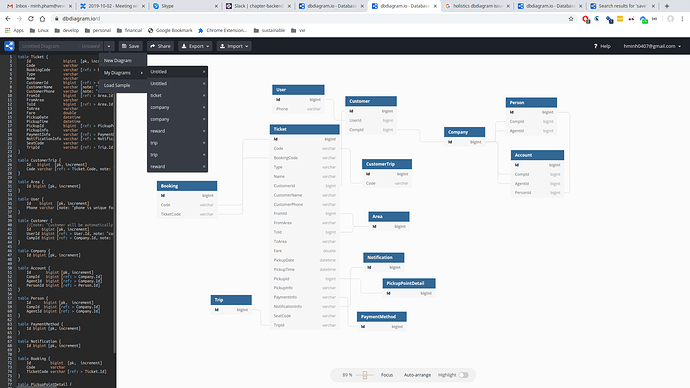 Reproduce steps
Save 3 diagrams or more
Open 2 browser tabs, edit and saved both diagram
Close all dbdiagram tabs
Open dbdiagram in new tab and check for the saved list
Keypoint
This issue make editing dbdiagram an unpleasant journey.
IMHO, in order to make dbdiagram a reliable source for technical document, more care should be put into how can we manage our diagrams.
We don't want to delete the diagram by accident which is very likely to happen with above issue
We want the url to be reliable everytime we open it or used it as an embedded page
If there's a better way to manage and share diagrams would be nice